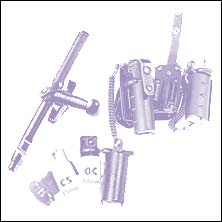 Products
Training Aids, Instruction, and Audio-Visual
Programs for Hazardous Device Recognition
Securesearch Inc. specializes in the production of training aids for the recognition of hazardous devices and explosives. Securesearch Inc. business arose out of instructing police and security officers. We produced our own inert training aids for safe classroom instruction, when it was found that such items were not commercially aivailable. In over 20 years, our product range has expanded to several hundred standard items, with many more on a custom-order basis for special requirements.
Our products, for the most part, are restricted for sale and cannot be sold to the general public. Some videotapes and publications are the exceptions.
Securesearch Inc. is regulated by the Hazardous Products Act and the Explosive Act (Canada) and by the Imports and Exports regulations on permitted and restricted products. Also, they have an Agreement with the International Association of Bomb Technicians and Investigators on end-use purchasers and security controls on our products. In addition, most countries have legislation on the possession of products which simulate explosives and improvised devices, and provides for authorization or permits to import our training aids.
Inert examples of commercial explosives, including their wrappers and labels
Inert examples of military explosives, representing those produced by various countries
Inert examples of improvised or homemade explosives and incendiary/arson materials
Inert, simulated improvised explosive devices and arson devices
Inert boobytrap devices and handgrenades, as used by a number of military forces.
Explosive simulant used for X-Ray testing for smuggled explosives.
Aviation security/Nuclear security training and test kits of contraband items
Modified luggage training aids with false sides and bottoms for narcotics smuggling awareness programs. These are used by customs officers and border patrol agents.
Display boards with multiple items mounted on them to demonstrate groups of problem materials or products.
Reference materials for X-Ray image recognition and identification of explosives, bomb components, improvised explosive devices, handguns and hand grenades. These are primarily for use by police and military bomb technicians, but are useful for any person who may be employed in X-Ray screening of containers and packages.
Video training programs on explosives, bomb threats, search procedures, X-Ray image recognition, and hidden contraband in luggage.
Remotely-operated bomb handling and disposal equipment, for pipe bombs and grenades.
Security awareness posters on terrorist weapons and explosive devices.
We also distribute a wide range of books and publications of interest to security and law enforcement personnel.
Firearms and ammunition, which have been modified to make them inert, for use in various programs. In most countries, no permit is required for these.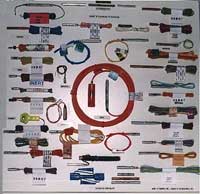 Services
X-Ray recognition training.
Destructive testing of body armour, vehicle armour, and ballistic glazing materials.
Training courses on bomb threats and explosives recognition.
Finnish Security Projects Ltd is the sole and only distributor of Securesearch Inc. products in Finland, Denmark, Norway, Sweden and Baltic States.
For more information, contact: Mr. Jan Käppi